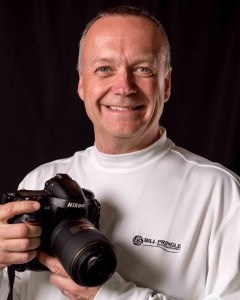 Bill has always had a passion for life. He loves to be around people, has a love for sports, finds great peace in nature, and his love for photography brings it altogether! Having purchased his first SLR camera at the age of 16, Bill's initial passion for photography has finally led to the fulfillment of a dream: his vocation to be a professional photographer. This is what he is meant to do and he comes alive when he's behind the camera!
Bill looks to capture life's moments wherever people gather to enjoy what life has to offer. When he's not booked photographing a sporting event, fundraiser, family get-together or taking portraits, you can find Bill hiking in the mountains, perched outside a den of foxes or up close and personal with butterflies and flowers, always looking for just the right shot.
Bill looks forward to helping you capture your special moments in life!